Model: DG Series Dredge Pump
Speed (r/min): 175-1400
Capacity (m³/h): 36-28000
Head(m): 3.5-78
Best efficiency: 30%-87%
NPSHr(m): 2.5-8
Shaft power Pa (KW):-
Allowed max particle size (mm): 82-350
Pump weight (kg): 460-121000
Discharge Dia.(mm): 100-1000
Suction Dia.(mm): 150-1200
Seal type: Mechanical seal


Impeller
Vanes:3,4,5
Material of liner: High Chrome Alloy
Type: Close
Material of casing:Cast iron/High chrome alloy
Material:High chrome alloy
Theory:Centrifugal pump
Diameter (mm): 920-2710
Structure: Single-stage pump

Delin Machinery is specializing in manufacturing slurry pumps, desulfurization pumps and dredge pumps in China.
The designation of DG series dredge pump is based on surveys on dredge pump used domestically and abroad. We
have conducted a lot of statistic analysis on dredge pumps or sludge pumps. Adopting different advance designing
methods and computer assistant designing software, this is a brand new DG series dredge pump, applied for deep
sea or offshore dredging, including extraction of sand and gravel, or transporting slurries. These DG series dredge
pumps feature excellent performance, outstanding structure design, ease of maintenance, and long service life, etc.
Features of Dredge Pump
1. DG series dredge pumps are of single stage, single suction, horizontal structure. According to discharging pressure, they are classified into two categories: single casing pump and double casing pump.
2. Double casing design enhances the safety reliability. If volute liner is getting close to being worn out, or split, there will be no water leakage inside pump house. Single casing dredge pump is of light weight and small volume. All of our DG series dredge pumps can be sump. The submerging depth can meet different requirements. Bearings use famous domestic or foreign brands. This series of dredge pump has long trouble free working time.
3. DG series dredge pump uses front dismantling structure, and is easy to stall, disassemble and repair. Different components have special dismantling tools.
4. Our dredge pump adopts standard screw thread for the connection of impeller and shaft, and equipped with removing of piston ring for the ease of assembling the impeller.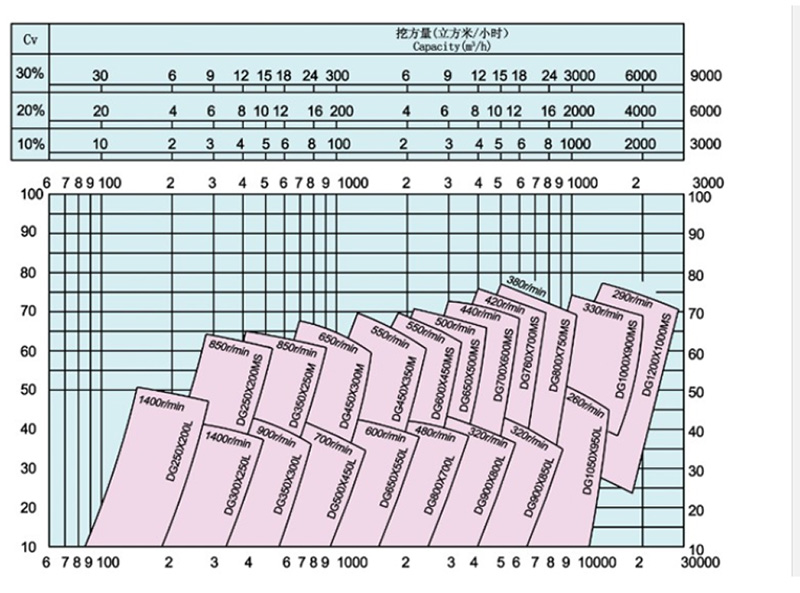 Type
Capacity(Q)
Head (H)
Speed (n)
Max Efficiency
NPSH
Inlet Diameter
Outlet Diameter
Max. Particle Size
Weight
m³/h
m
r/min.
%
m
(mm)
(mm)
(mm)
(kg)
DG150×100-D
36-252
3.5-51
600-1400
30-50
2.5-3.5
150
100
82
460
DG200×150-E
137-576
10-48
800-1400
50-60
3-4.5
200
150
127
1120
DG250×200-S
216-979
13-50
500-1000
45-65
3-7.5
250
200
178
2285
DG300×250-G
360-1512
11-58
400-850
50-70
2-4.5
300
250
220
4450
DG350×300-G
504-3168
6-66
300-700
60-68
2-8
350
300
240
5400
DG450×400-T
864-3816
9-48
250-500
60-72
3-6
450
400
254
10800
DG250×200H-S
396-1296
10-80
500-950
60-72
2-5
250
200
180
3188
DG300×250H-T
612-2232
28-78
350-700
60-72
2-8
300
250
210
4638
DG400×350H-TU
720-3600
20-72
300-500
60-72
3-6
400
350
230
12250
DG250X200L
340-870
10-45
900
65-70
<4
250
200
178
2500
DG250X200MS
520-1000
38-65
850
70-74
<4
250
200
180
3000
DG300X250L
500-950
10-42
700
65-68
<4
300
250
220
3000
DG350X300L
700-2400
10-38
650
74-78
<4
350
300
241
6000
DG350X250M
500-1500
35-68
600
74-78
<4
350
250
220
3513
DG450X300M
900-2500
40-70
550
76-80
<4
450
300
241
3513
DG450X350M
1200-3500
40-70
550
71-75
<4
450
350
245
7300
DG500X450L
1200-3800
10-43
48
78-80
<4
500
450
354
7850
DG600X450MS
1500-4200
40-76
500
80
<4
600
450
354
7950
DG650X550L
1800-5500
10-48
420
83
<4
650
550
300
8000
DG650X500MS
2000-6000
35-73
440
85
<4
650
550
250
11300
DG700X600MS
2500-8000
30-76
470
85
<4
700
600
220
30000
DG760X700MS
2800-10000
30-76
380
81
<4
760
700
280
45000
DG800X700L
3000-8500
10-43
380
81
<4
800
700
280
23000
DG800X750MS
5500-14000
34-74
349
81
<4
800
750
290
55000
DG900X800L
4000-13000
10-40
280
85
<4
900
800
300
23000
DG900X850MS
7000-17000
34-74
330
85
<4
900
850
320
65000
DG1000X900MS
8000-20000
34-74
175
85
<4
1000
900
340
80000
DG1050X950L
7500-17000
10-38
258
85
<4
1050
950
345
95000
DG1200X1000MS
8000-28000
24-75
290
85-87
<4
1200
1000
350
121000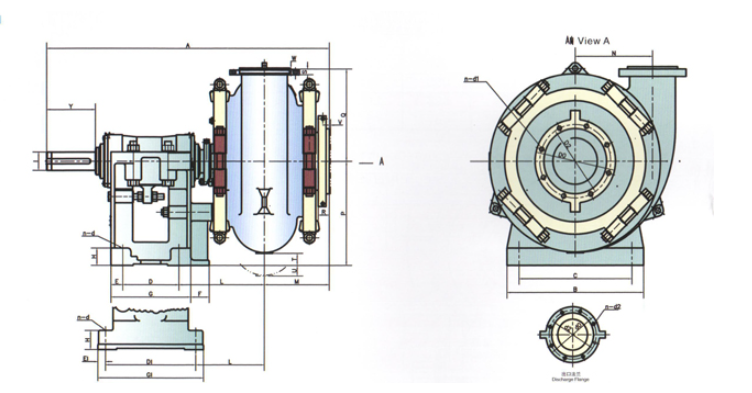 Type
Outline Dimension
A
B
C
D
E
F
G
D1
E1
G1
H
Y
I
N-d
L
M
N
DG150X100-D
1006
492
432
213
38
75
289
-
-
-
54
164
65
4-Ф22
330
203
260
DG200X150-E
1286
622
546
257
54
83
365
-
-
-
75
222
80
4-Ф29
392
295
352
DG250X200-S
1720
920
760
-
-
-
-
640
70
780
90
280
120
4-Ф35
378
330
416
DG300X250-G
2010
1207
851
-
-
-
-
749
64
876
152
356
140
4-Ф41
473
368
522
DG350X300-G
2096
1207
851
-
-
-
-
749
64
876
152
356
140
4-Ф41
502
424
610
DG450X400-T
2320
1150
900
-
-
-
-
880
80
1040
125
350
150
4-Ф48
538
439
692
DG250X200H-S
1774
920
760
-
-
-
-
640
70
780
90
280
120
4-Ф35
455
330
475
DG300X400H-T
2062
1219
851
-
-
-
-
749
64
876
152
356
140
4-Ф41
496
400
605
DG400X350H-TU
2367
1460
1200
-
-
-
-
860
95
1050
150
350
150
4-Ф70
649
448
765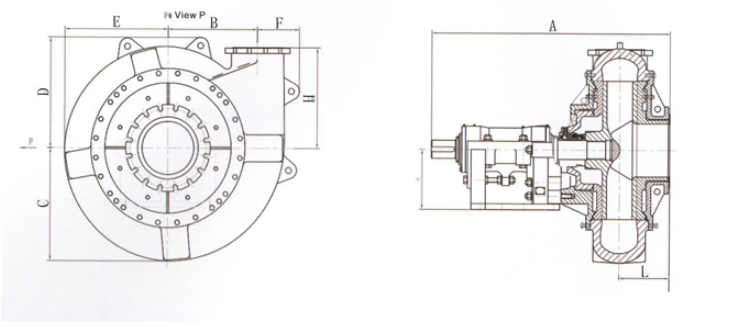 Type
Outline dimension
Weight(kg)
A
B
C
D
E
F
H
M
L
DG350X250M
1691
614
752
737
711
288
400
670
344
3515
DG450X300M
2279
640
860
852
862
360
500
787
416
7000
DG600X450M
2670
850
700
940
955
405
475
875
483
7850
DG650X500M
2313
800
1207
1060
1090
533
700
950
520
8000

Type
Outline dimension
Weight(kg)
A
B
C
D
F
H
H1
M
L
W1
W2


DG700X600MS
3121
580
1377
1390
706
600
800
1230
580
1550
1400
30000
DG700X650MS
3175
1000
1400
1410
720
600
495
1300
623
1700
1500
40000
DG760X700MS
3788
1250
1781
1618
693
735
885
1480
786
1985
1839
51000
DG800X750MS
3164
1172
1787
1710
840
760
550
1710
695
2050
1800
50000
DG1000X900MS
4013
1450
2160
2055
889
793
1150
1770
955
2450
2250
90000
DG1200X1000MS
4735
1745
2545
2340
992
935
1130
1865
1188
2915
2627
140000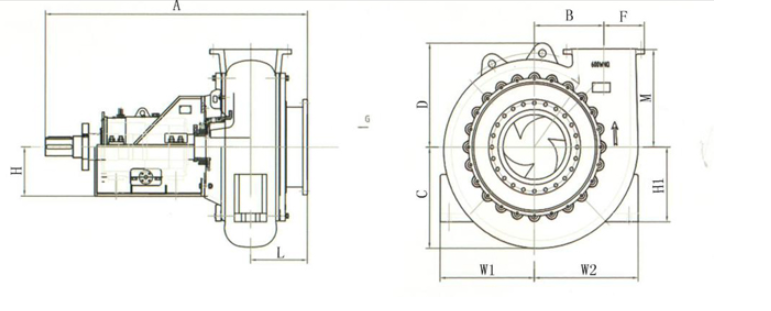 Type
Outline dimension
Weight(kg)
A
B
C
D
F
H
H1
M
L
W1
W2


DG700X600M
2923
775
1088
1120
455
530
803
1050
635
1055
1160
15000
DG760X700M
3003
1011
1346
1278
621
530
530
1200
685
1466
1608
21000
DG800X750M
3164
1172
1498
1317
546
550
--
1518
694
1370
1541
25000
DG1000X900MS
34013
1450
1840
1900
682.5
735
735
1750
955
2050
2230
46000